27/05/2021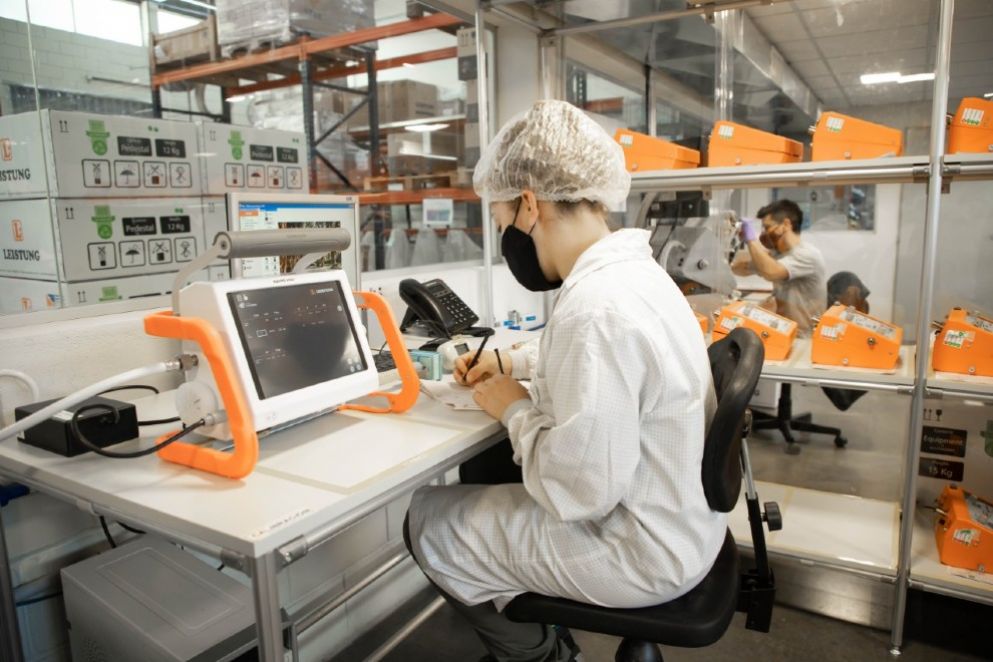 Four local companies were able to position their products in foreign markets in the context of the pandemic.
They did so with the advice and assistance of ProCórdoba Agency.
The International Public Procurement Program played a key role in this process.
How does a hemotherapy chair manufactured in the Talleres neighborhood of the city of Córdoba reach a patient who volunteers to donate blood in a hospital in Peru?
The International Public Procurement Program run by the Ministry of Industry, Trade and Mining's ProCórdoba Agency makes it possible.
There are two reasons why medical equipment from Córdoba are considered, valued and purchased from all around the world: their competitive prices (due to the current exchange rate) and their quality (superior durability compared with products from powers such as China) and after-sales service.
How does a hemotherapy chair manufactured in the Talleres neighborhood of the city of Córdoba
reach a patient who volunteers to donate blood in a hospital in Peru?
In the last year, four local companies — family-owned SMEs based in Córdoba — managed to export medical devices in the midst of the pandemic to strengthen the healthcare systems of countries such as Peru, Paraguay and Bolivia, among others.

How the Work is Done
Through the service provided by the Agency, searches are carried out and information about international calls for proposals from different public markets, both from international organizations and Latin American states, is disseminated.
"On the one hand, we recognize the international market as a business option. We help entrepreneurs to lose their fear of public tenders and prepare them so that they can comply with the bidding terms and conditions, so that they are ready to submit their bids. We also give training workshops for companies," explained Viviana Arias, ProCórdoba's Cooperation and International Relations Manager.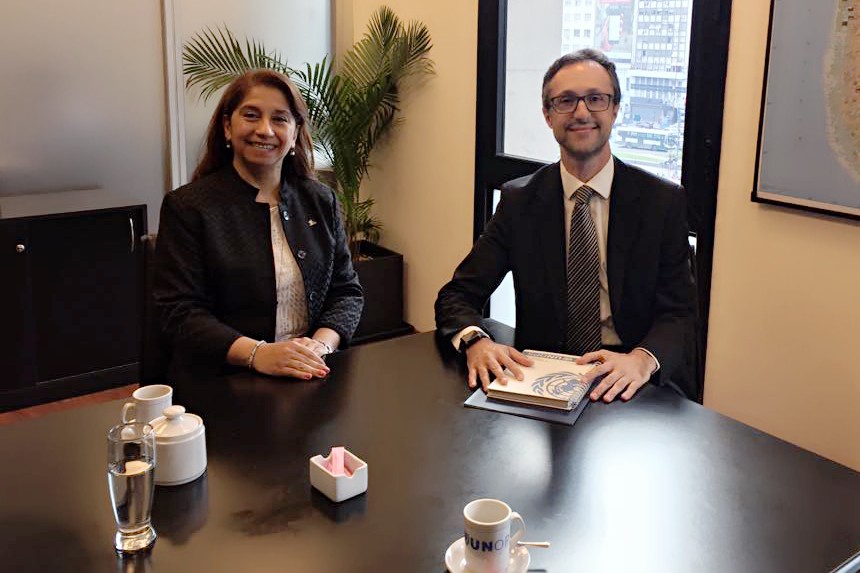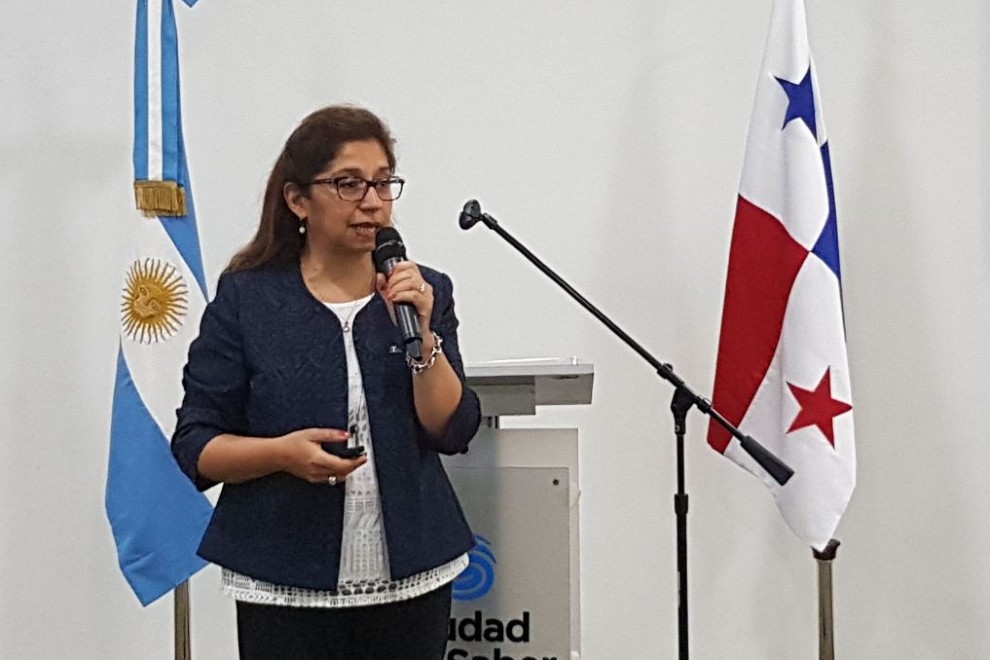 ProCórdoba's comprehensive advisory services range from the dissemination of international calls for proposals to the analysis of bidding documents, personalized assistance for registration, support in the preparation of bids and follow-up of results.
This work helps companies to be in a better position to participate in international procurement processes and to have a better chance of obtaining successful results.
SIEC
With a history spanning over 30 years in the medical equipment industry, SIEC is dedicated to the manufacture of medical-hospital furniture.
In January 2020, they participated in an international tender called by the UNDP of Paraguay (United Nations Development Program) to supply hospitals for the dengue fever.
"We had the full assistance of ProCórdoba's Public Procurement team, throughout the entire process. We received the news that we had been awarded the contract and we were able to ship the contracted goods on March 19, 2020, just in time, before the full lockdown was in Argentina", said Soledad Cafure, general manager of the company founded by her father.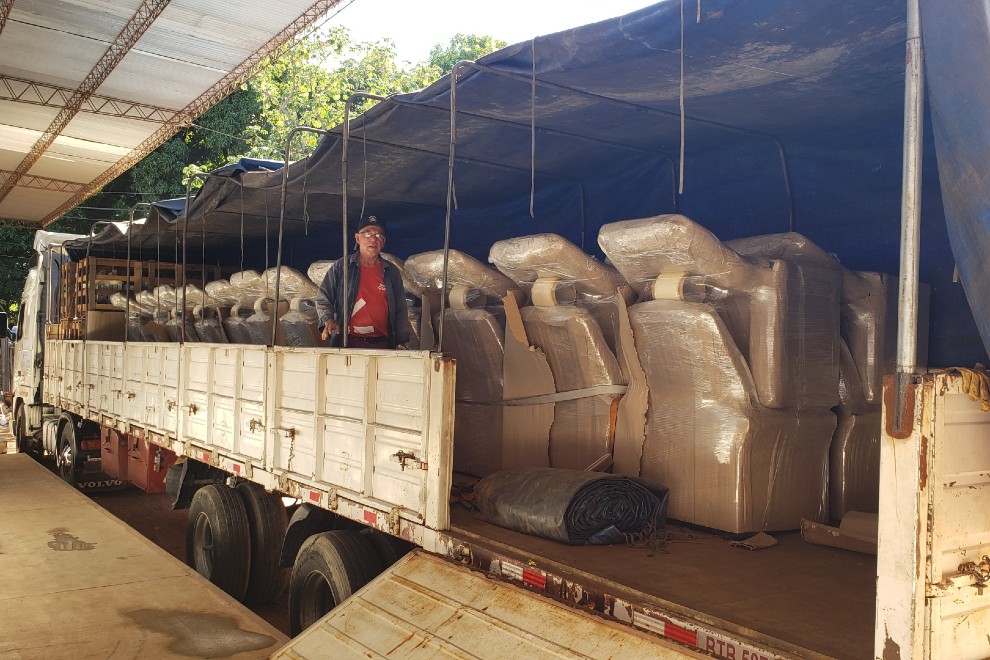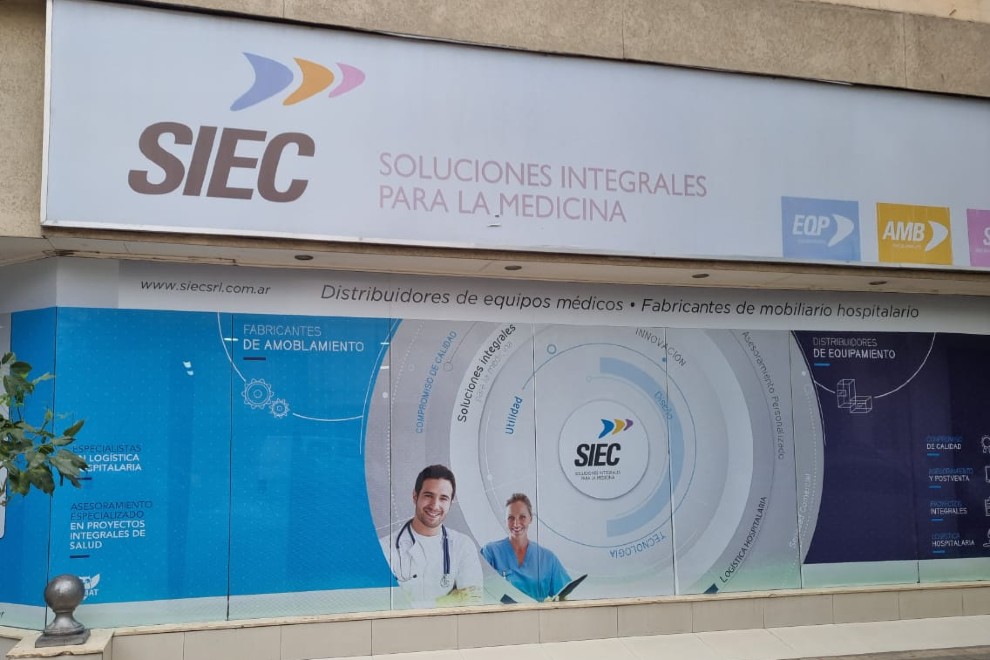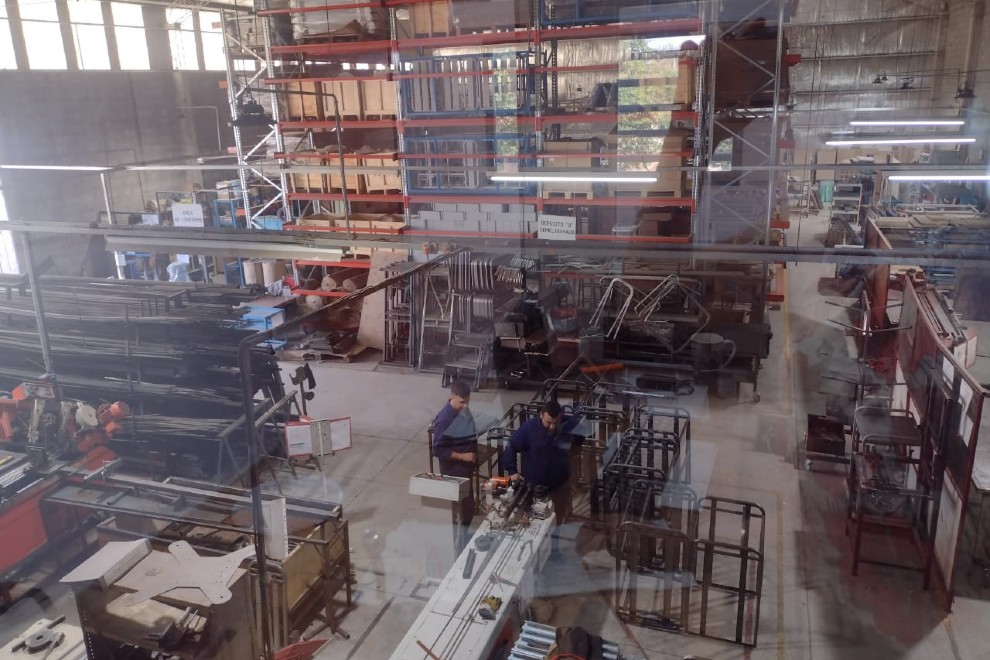 "It was a great experience for us and from this contracting we received several inquiries from other companies in Paraguay. These tenders require certain formalities and documentation, with which we had full assistance from the ProCórdoba team. Currently, we continue to keep an eye out for possibilities of this type and we evaluate their feasibility, preparing ourselves to make exports part of our business portfolio", explained the company's accountant.
SIEC exported 50 overbed tables and 50 hydration chairs to six renowned specialized hospitals in Paraguay.
TRENDEL
Since 1982, the firm has been working in the design, manufacture and sale of chairs for medical treatments such as hemotherapy, dialysis or chemotherapy.
The chairs have three characteristic attributes: design, since they are products that do not look "hospital-like" and could well be placed in the living room of a house; comfort, which is fundamental for the patient who remains seated for an average of four hours, three times a week, for many years of his life; and, finally, quality, since the chairs have been created for intensive use and last for many years in perfect working condition.
The Province of Córdoba's first plasmapheresis center for plasma collection from patients recovered from Covid-19 is equipped with Trendel's furniture.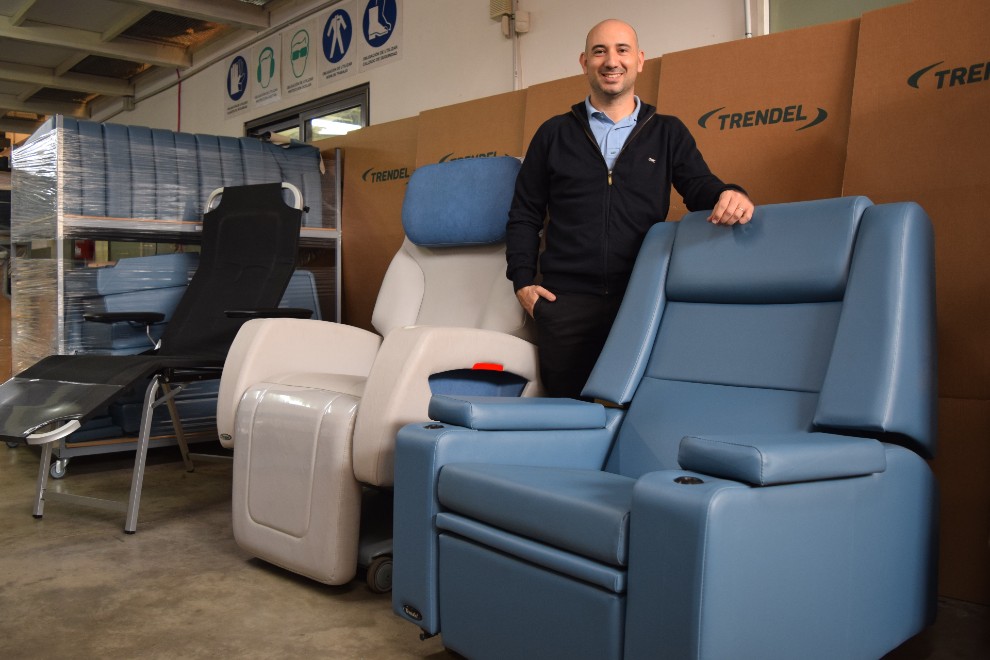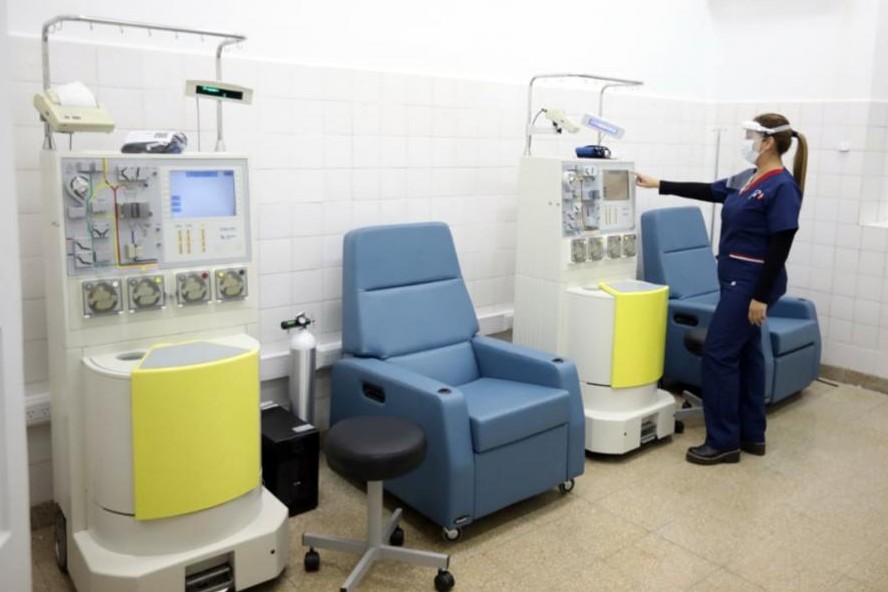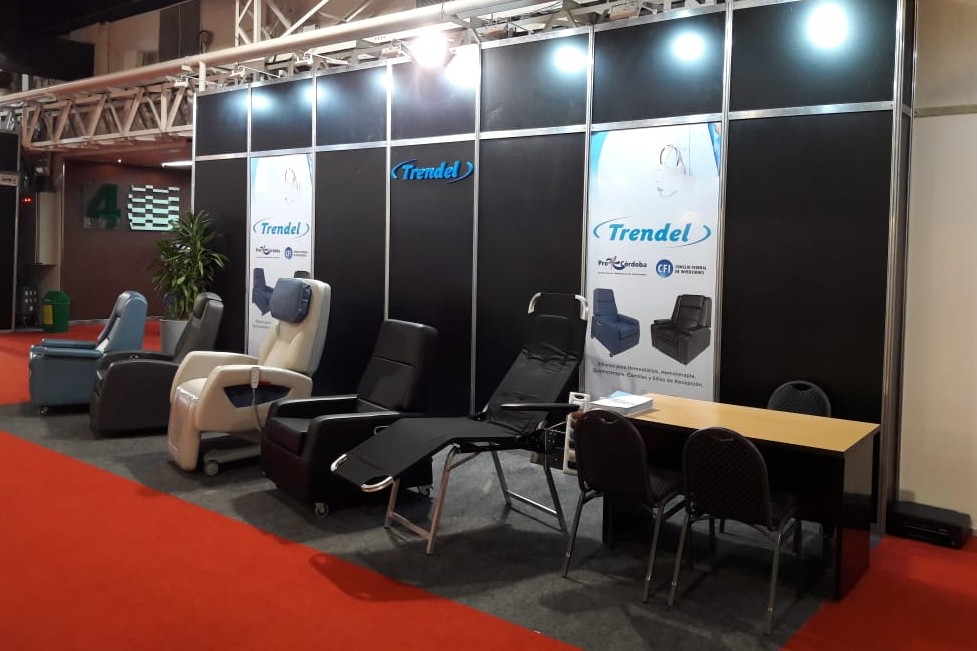 "We receive constant support from ProCórdoba Agency through the different programs they offer to SMEs in our province. We participated in the mission to Tecnosalud 2019 in Lima, Peru. Thanks to this mission we were able to make our first export to the Peruvian market in April 2020, which consisted of 16 armchairs", said general manager Aníbal Benito, son of the firm's founder.
"We are currently participating in the Export Development Program for the Health Industry, recently launched by the Agency, to achieve continuity in exports and seek new international markets interested in our products," he added with respect to the business prospects envisioned with ProCórdoba.
LEISTUNG
Leistung is a German word meaning "efficiency". After the National Government authorized it to sell its ventilators abroad as of August 2020 (previously it was obliged to supply the domestic market), the sky seems to be the only limit to the company's expansion.
The Los Boulevares neighborhood-based factory — which has offices in Brazil and Miami, and more than 100 employees at present — develops intensive care and transport ventilators, as well as anesthesia machines.
General manager Silvina Grasso (daughter of one of the three founding partners) said that they are "betting heavily" on foreign trade because provides higher profit, which in turn allows them to increase production, add jobs and, especially, invest in development.
In this regard, Grasso highlights ProCórdoba's action as a channel to reach international markets. Last year, they exported dozens of ICU ventilators to the Social Security Institute of Paraguay (in Spanish, IPS).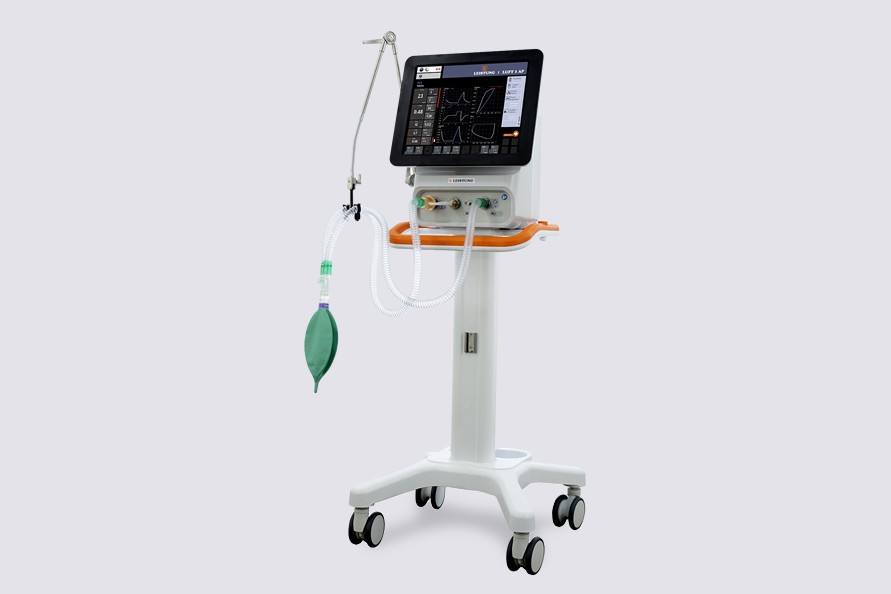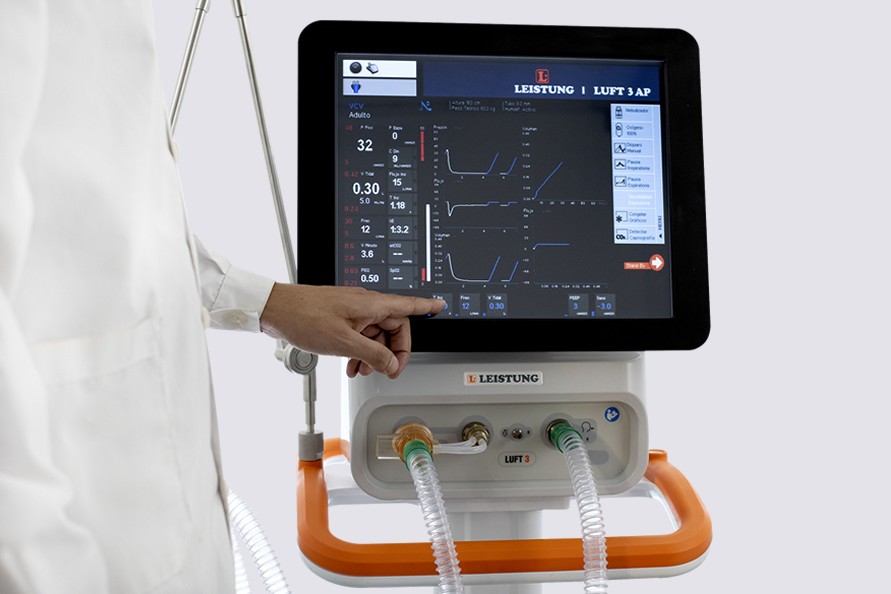 In Bolivia, meanwhile, the company won a tender with AISEM (Healthcare Infrastructure and Medical Equipment Agency) thanks to information provided by ProCórdoba. It also exported to Peru, a direct result of their participation in Tecnosalud 2019.
Grasso explained that their products are sold in the domestic market at less than 50 percent of what they cost in a foreign country; and that they hope that this year more than half of their production will be shipped to a cross-border destination.
"The main strategy is internationalization," she said. ProCórdoba's role in this process was crucial. In addition, they have sold to Colombia, Nicaragua, El Salvador and Guatemala. These markets that show that Leistung's customers are increasingly transcending provincial and national borders.
VALLÉ
Vallé is a family company with 60 years of experience in the manufacture of special vehicles for healthcare (ambulances), passenger transportation (minibuses) and security (police vehicles).
"Through this program we were able to register as reliable suppliers of the UN, in the 'United Nations Global Marketplace' platform, through which we have access to all the calls of the different UN agencies (such as UNOPS, UNICEF, UNDP, among others). We made our first export to the United Nations, specifically to UNOPS Uruguay, exporting, together with Iveco Argentina, a mobile clinic for women's care. This contained all the medical and gynecological equipment for a program carried out by the Ministry of Health of that country," recalled Martín Cerezuela, commercial manager of the company.
So far during the pandemic, the company — together with an automotive terminal — was pre-awarded an operation of 36 ambulances for a UN Agency in Argentina. The vehicles are equipped with medical devices for intensive care and patient transport and will be distributed throughout the country.