ProCórdoba handed over the presidency of RTPO
25/11/2010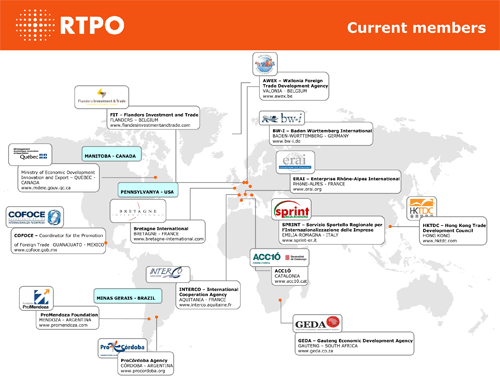 The International Network of Regional Trade Promotion Organisms (RTPO) held its 2010 Annual Meeting, and this time the Gauteng Economic Development (GEDA) Agency hosted the meeting. Thus, between November 17 and November 19, representatives of member entities in the network gathered at Johannesburg.
General Assembly
The General Assembly of the Net was led by Dr. Gerardo Juarez, Director of ProCórdoba, since the agency wielded the Presidency of the Network.
At the same, they presented activities and joint projects between the partners. Among them, they presented the case of cooperation between the networks of the Four Motors for Europe and the Four Motors of Mercosur; several RTPO member agencies are participating in it. The presentation was in charge of Ms. Viviana Arias, Manager of International Relations and Cooperation in ProCórdoba.
In the workshops intended to reflect on the RTPO medium-term vision it was decided to give greater international visibility and positioning to the network. ProCórdoba will contribute to this with the web page into the RTPO as well as its content management. The characteristics of this action were presented by Diego Garcia, a member of the ProCórdoba delegation.
Moreover, within the framework of this meeting, members agreed to the incorporation into the RTPO of the agencies in Pennsylvania (USA), Manitoba (Canada) and Minas Gerais (Brazil).
ProCórdoba Presidency
In the Assembly, Agencia ProCórdoba handed over the presidency of the entity that had been granted by his peers in the 2009 Assembly, which took place in Cordoba city.
Appraised was the ProCórdoba intense activity during the year of Presidency, which was reflected in the Report of Activities and in the Network´s Report. Dr. Gerardo Juarez received the other partner regions congratulations in the farewell speech on the commitment to the Network
The host organization, GEDA, was elected to serve as President in this new period until the next annual meeting. During the assembly, the members also decided that the fourth annual meeting will take place in Wallonia, Belgium, possibly in October 2011.
ProCórdoba in the RTPO leadership
We should point out that ProCórdoba will continue in the conduction of the network since it was approved on integrating the RTPO Executive Committee. This appointment will help convey the experience which will result in the Network strengthening. ProCórdoba joined in this committee, together with institutions from Catalonia, Rhône-Alpes, Hong Kong, Guanajuato, Quebec and Flanders.
View all news