Nearly 700 Business Meetings held at Villa María Exporta 2018
11/09/2018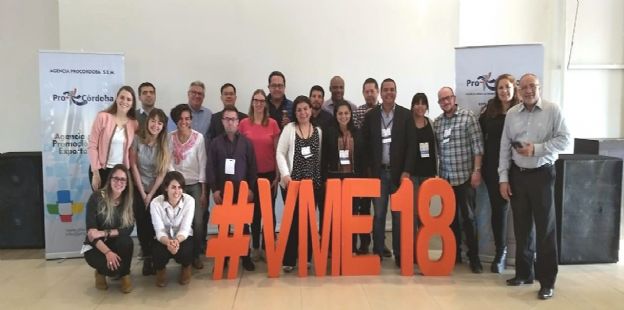 The 14th edition of "Villa María Exporta", the country's most important international business round devoted to the food sector, was home to around 700 business meetings, and allowed for the interaction between different regional economies at the international level.
The meetings for the food sector were co-organized by the Federal Investment Council (in Spanish, CFI) and the Entrepreneurs Association of the Central Region (AERCA). Other collaborators include the governments of the provinces of Santa Fe, Entre Ríos and Mendoza, the Argentine Investment and Trade Promotion Agency (AAICI), and the Ministry of Production of the Nation.
For two whole days, 11 foreign companies from Bolivia, Brazil, Colombia, Guatemala, Panama and Viet Nam held 582 meetings with over 70 Argentine companies. Operators also had the opportunity to visit production plants such as Cooperativa Agrícola Ganadera de Arroyo Cabral Ltda., Quesos Especiales, JL, Elcor, Noal, and Punta del Agua.
Furthermore, ProCórdoba Agency and the Argentine Investment and Trade Promotion Agency organized a business round exclusively focused on the dairy industry. Seven international operators from Algeria, Brazil, Chile and the Philippines participated in the activity, which included 123 meetings.
Carolina Benito, Head of Foreign Trade at AERCA and a Director at ProCórdoba Agency, welcomed the international delegations and acknowledged Villa María Exporta as the foremost food sector business round in the interior of the country.
Benito continued,
"Villa María Exporta 2018 is taking place at a very peculiar time for exporting companies. There have been significant changes that affect the main critical variables for the sector, such as export duties and exchange rates. Based on this exchange rate competitiveness, expectations are high. We believe this is a good opportunity to drive exports by SMEs which are not currently exporting and to strengthen the presence of already-exporting companies in certain markets."
Foreign visitors shared their views after taking part in the different activities. Argelia's Sarl el Baraka Food CEO Abdeslam Assila reflected upon the importance of participating in a business round that is exclusively devoted to the food sector and he said,
"We are interested in Argentine products because we know the brands. They have a very good reputation in Algeria. At the event I have seen Argentine providers with whom we have already worked and want to restart relations, but this is also a great opportunity to meet new providers."
Sylvia Menéndez, Commercial Manager at Productos Alimenticios Yaestá from Guatemala, expressed a huge interest in flavored peanuts and dulce de leche. Menéndez praised the work done by ProCórdoba Agency and thanked the organizers for coordinating a visit to companies in the area. She remarked,
"I believe that if we make such a long journey to meet with other businesspeople, getting to know a company and its facilities provides us with a greater insight into how the industry works in Argentina."
Nutrir Produtos Lacteos Ltda. Commercial Director João Marques, from Pernambuco, Brazil, said,
"This is the first time we have visited the country. We have come looking for butter and powdered milk to use in the production of dairy foods and beverages.
He continued,
"Both Argentina and Brazil are in a period of transition, which does not make things easier. We hope the situation will improve in the coming months. I believe there is a 60 percent chance of closing deals in the short term and a 100 percent chance of doing so in the long term. We are grateful to ProCórdoba Agency for this opportunity. This has been a very good experience."
View all news